Machining In-house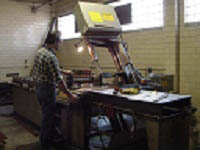 Vertical sawing capabilities
able to cut material up to 20" wide and 20' long able to miter cut at any angle from 45 degrees to 90 degrees auto power feeds for multiple cuts of the same lengths
Fabrication In-house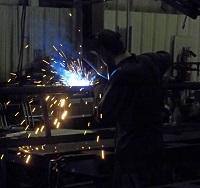 Welding Capabilities
250, 300 and 400 AMP MIG welders – used to weld steel and aluminum from carbon sheet steel to heavy 2 and 3 inch T1 plate steel.
200 and 300 AMP TIG welders capable of welding steel, aluminum, and Stainless Steel. We also do brazing, soldering, and stick welding as needed.
Stud welder – for attaching stud mounts Learn more ...
Manufacturing by our Partners
Learn More ...