Speed Radar and Message Board Trailer Refurbishment
ATS-5 Trailer Refurbishment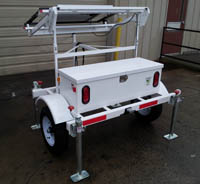 Speed Radar and Message board Trailers
We have the expertise to repair, fix, upgrade, powder coat, and test your trailer chassis, battery box, upper structure, running gear, lights, etc. We can source components from the original trailer parts supplier such as tires, wheels, axles, bearings, shackles, etc. We can disassemble the trailer, blast the old powder coating from the part, and then apply a brand new powder coat. We can perform the following upgrades as well.

Upgrades
- Upgrade battery box lid from old steel design to new aluminum diamond plate.
- Upgrade upper steel structure to the latest aluminum upper structure.
- Replace worn out batteries with new batteries.
- Replace solar panel with a newer version, change to higher wattage panels.
- Replace solar controller.
- Replace battery charger and/or cables.

Trailer Chassis and Running Gear
- Repack bearings
- Replace bearings, axles, shackles, shackle bolts, etc.
- Replace trailer wheels.
- Check, repair and replace trailer wiring and lights.

Appearance
- Blast old powder coating off and replace with a new baked-on powder finish
- Chassis
- Battery Box
- Upper Structure
- Tongue Tube
- Replace Decals

See BTI Maufactured Trailer Pictures
Other Radar Trailers
Just because we did not manufacture it, does not mean that we cannot repair it, refurbish it, or make certain replacements. There are a lot of speed radar trailers out there and we want to be able make them look like new for you.
Appearance
Blast old powder coating off and replace with a new baked-on powder finish
- Chassis
- Battery Box
- Upper Structure
- Tongue Tube
- Replace Decals

Trailer Chassis and Running Gear
- Repack bearings
- Replace bearings, axles, shackles, shackle bolts, etc.
- Replace trailer wheels.
- Check, repair and replace trailer wiring and lights.