⇒Product Development ⇒Engineering Analysis ⇒Electrical Harness Design and Fabrication ⇒Prototype Build, Prototype Test ⇒Project Management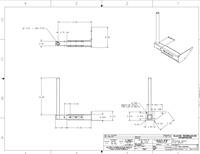 Blazing Technologies Inc. is an Engineering Design and Manufacturing company. For over twelve years our engineers, designers and builders have successfully completed projects ranging from product design and development providing full engineering documentation (drawings and bill of materials) to designing and building a single or several prototypes, built and tested in our own shop to building up to twelve years of a product. Our customers include small businesses getting started with a new product to government agencies and Fortune 500 Corporations.
Blazing Technologies Inc. has a background in the mobile equipment market and more recently in the manufacturing equipment and tooling sectors. We are expert in the hydraulic and electric over hydraulic, PLM driven hydraulic, and computer controlled automated equipment markets. All BTI design projects are held in the strictest of confidence.
Our engineering design team has extensive experience in solving engineering problems and developing special systems, equipment and products for clients. We offer Contract Engineering Services to industry. We utilize the latest computer design software and computer analysis programs necessary to deliver cost-effective, reduced time to market. Typically we design using Siemans NX software for 3D design and mechanism design. BTI utilzes its own Integrated Product Design procedure that has proven results utilizing customer input and feedback to develop the project requirements and the concurrent engineering design methods to manage projects build the prototypes, perform anaylsus and even take finished projects to product launch.
If you have an idea that you wish to persue, a problem that needs a solution, or concept that needs to be designed, or help getting a project to market, Blazing Technologies Inc. is your product development source.